Update Frontend Tool
Painless deployment across the business
The frontline in your battle against cybercrime and poor performance
In your efforts to keep your organization's infrastructure healthy and efficient, one of the most important tasks is to deploy Windows upgrades. Keeping Windows up to date is essential to just about all aspects of security and performance, and is essentially the frontline in your battles against cybercrime, disgruntled users and lost productivity.
Unfortunately, in addition to being Very Important, organization-wide upgrades are often also rather painful. Some upgrades are technically challenging. But all upgrades are always annoying to the user, who gets forced through restart, at the worst possible, most inconvenient time.
To fix this, Insight Analytics comes with the Update Frontend Tool that enables IT teams to gently but effectively deploy the necessary upgrades, with minimum hassle to the users, and maximum impact for the IT organization.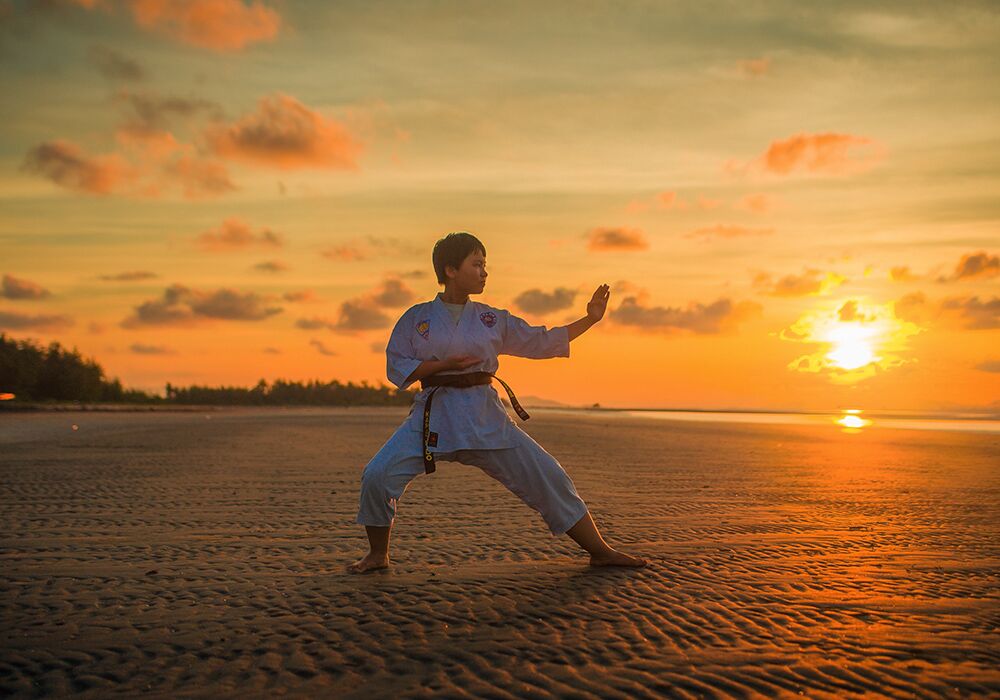 Nudging and guiding upgrades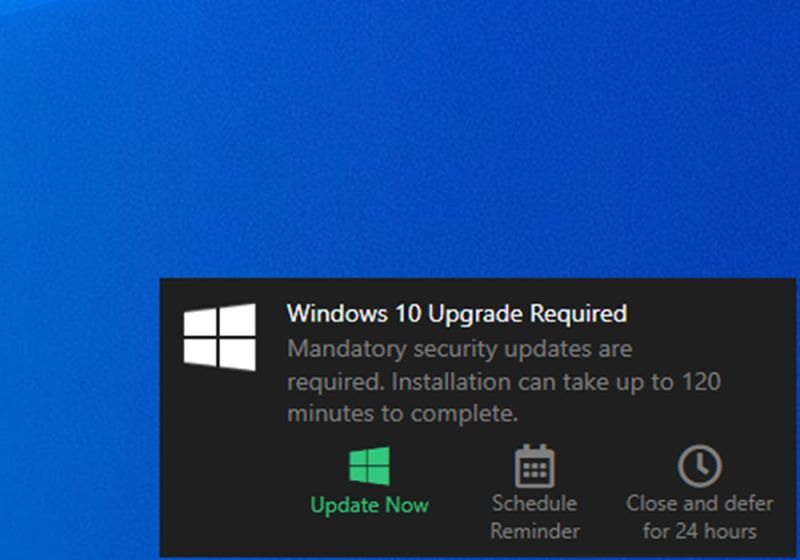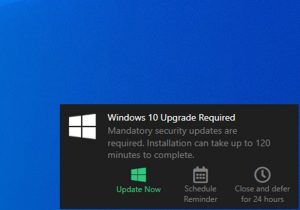 Rather that forcing Windows upgrades through the organization, the Update Frontend tool makes it possible to customize the upgrade process and meet users' behaviors and expectations.
The tool works behind the scenes to ascertain known technical issues preventing the upgrade process. Any issues discovered are logged, enabling IT to troubleshoot before attempting to upgrade.
Using nudging and customization you get a much better effect and can push updates through the organization more quickly. Users get less frustrated, because you can explain to them why upgrades are necessary and give them some control of when they want the updates to install.
Security is vastly improved throughout the organization because organization-with deployment of upgrades are implemented much more quickly.
Customize upgrades to all users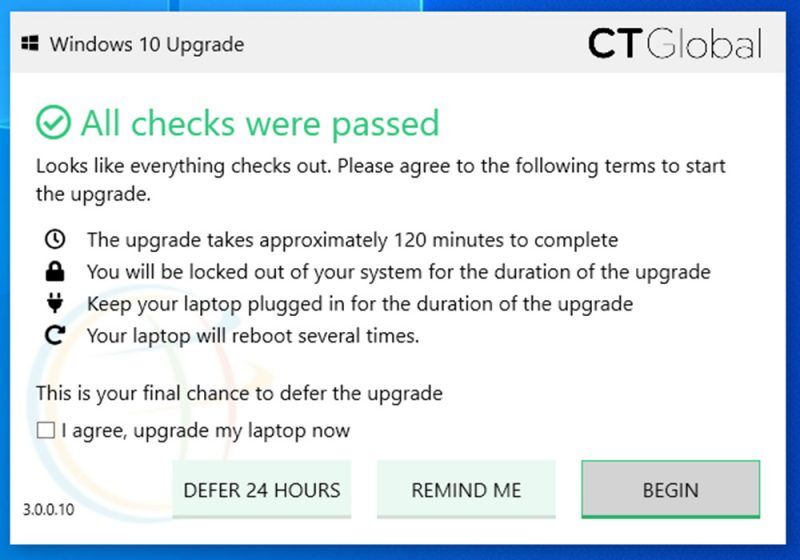 The challenge for the IT department is to ensure the upgrades happen as painlessly as possible for users throughout the organization – "users" being a highly diverse group of individuals, with as many different requirements and behavioral patterns:
For some, upgrades in the office at 11 a.m. on a Wednesday is perfect. For others, upgrading at home at 9 p.m. on a Sunday is much better, and less intrusive.
It is also possible for the organization to customize the design and language in the upgrade notifications, using language in a tone of voice and at a technical level suited to the user group
Identify and prompt users to update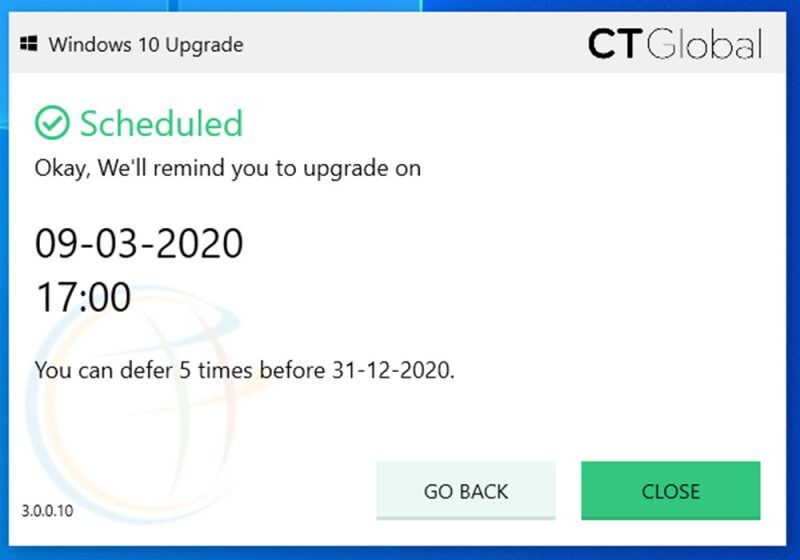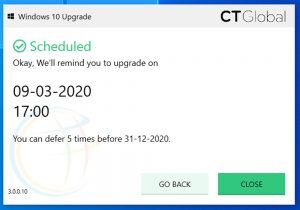 CTGlobal's Update Frontend tool is used by your internal IT team to prompt users when upgrades are required, and rather than forcing the upgrade to start straight away, allows the user to postpone the upgrade date to a more convenient time in the future.
Before starting the upgrade, users are notified if the machine meets the basic requirements for a successful upgrade – if it's plugged in to a power source, if all programs are closed and work saved, and if there is sufficient free disk space on the device.
The Update Frontend tool comes bundled with Insight Analytics™, CTGlobal's data analysis and visualization tool.
This means you can identify the individual or groups of devices that require upgrades, and track whether the upgrades are successfully deployed.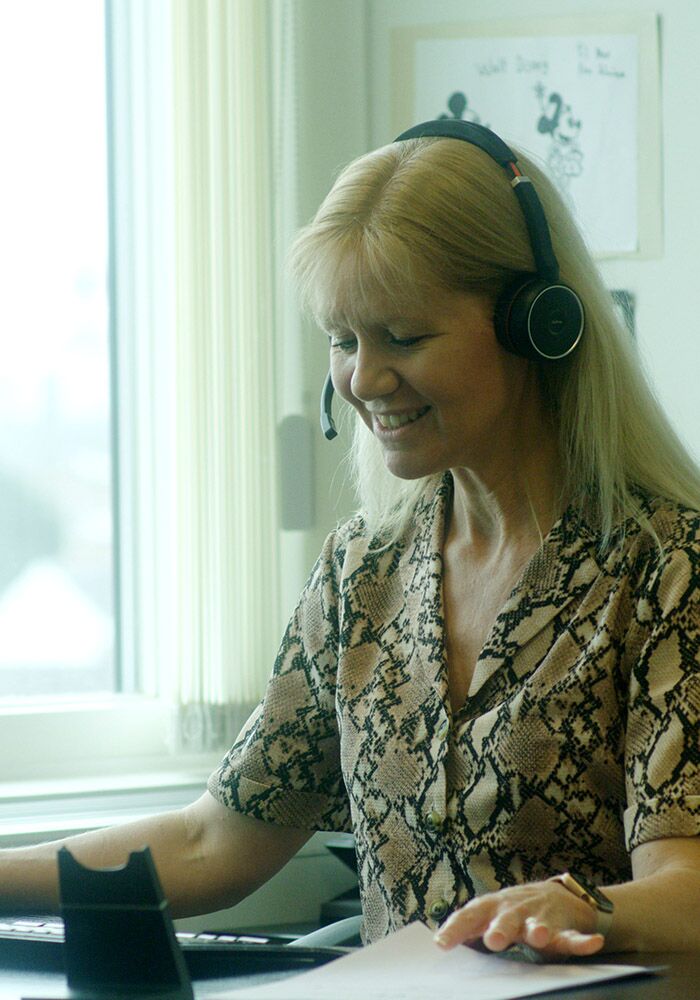 Contact us for a project proposal and pricing: info@ctglobalservices.com